Summary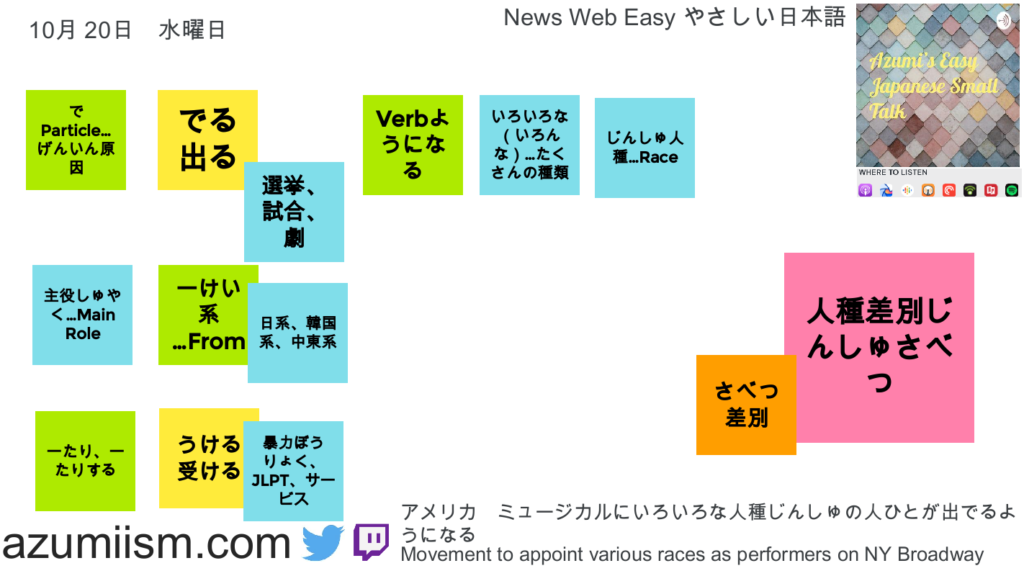 Let's vote about today's article! 記事の話題に投票しよう!
『マイ・フェア・レディ』の主役が日本人でもいいと思いますか?Would it be okay if a Japanese person play a leading role in "My Fair Lady"?
Make a sentence with today's word
Azumiの一言
When I was an elementary school student, I had a moral class every week. I remembered to learn about Buraku discrimination. My teacher explained that some people discriminated against a group of people because of their origi, where were they born, and told us that we should not do that. I thought, if they didn't tell us, we wouldn't have known, thereby, we would have not been able to discriminate. Why should I know about this?
Here is what I found out after some decades. Even if we would not be taught by a teacher, we will know through our socialization. In the process of socialization, it is invisible and you would just learn how a thing works in a broad context. That's why you would easily get used to custom or behavior out of reason, background, or intention. Once you happen to learn you will participate in this costume unintentionally and reinforce this social construct. Therefore, we need education. Without education, especially people who are in a dominant group hardly notice how they discriminate against people who are in the subordinate group. The people who are in the subordinate group also need education in order not to internalize this oppression.
小学生の頃、道徳の授業が毎週あったのを覚えています。その授業で部落差別について勉強しました。先生はその時、ある地域の出身であるということを理由に、誰かが差別されているということを知りました。先生は、差別しないようにしないといけないと言いました。私は、先生がこんなことを説明しなかったら、誰も差別しようがないのに何で言うんだろう?と不思議に思ったんです。
さて、何十年もたってわかったことがあります。もし先生に教わらなくても、私達は社会に生きていく中で、人が人を差別するという過程を自然と学ぶということです。社会化と呼ばれています。それは、目に見えず、私達はただ日常生活の中で自然とその情報にさらされ身につけていくのです。自然と慣習や振る舞いとして現れ、理由、背景、目的もなく発動してしまいます。そしてその慣習を自然と身につけてしまったが最後、無意識的にその行動を繰り返し、その行動が続くために貢献する参加者になりはててしまうのです。ゆえに、教育が必要なのです。教育なしでは、特に優位グループに属した人は、下位グループへの差別にほとんど気づくこと無く差別を繰り返します。そして、下位グループに属する人たちにとっても、この抑圧をしょうがないこととして受け入れ内在化してしまわないために教育が必要です。
Extra
Azumi's Easy Japanese Small Talkをおうえんしてほしい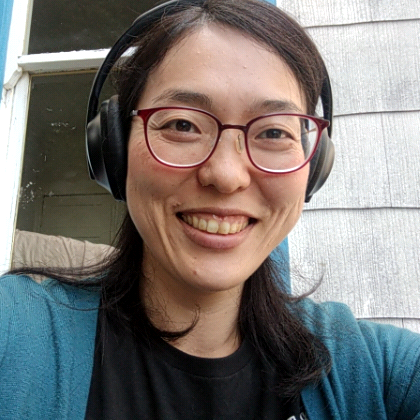 Thanks for accessing my content. I began this personal project for many reasons. Some are altruistic, others for myself. Both are crucial for me to continue this project. And, I am hoping if you can show your interest in my content in some ways. One way is contacting me via text. Another way is here, donation. It would be great for me to know that someone wants to listen to my channel. I actually do not like doing this kind of thing. You know, it could be a strong impact for me to receive, if it doesn't work. In the end, the attempt to seek people's support can show the reality that no one actually likes it. So, it takes 400th episodes for me to make this big step. So far, as I expected, no one has appeared yet. But, I am going to be patient, probably until 500th? haha So, if you'd be kind to support me, please visit the following link! ありがとう。